Got Tea is a franchise popularly known for its bubble/boba tea and its aesthetic ambience within its locations spread across Delhi and Gurugram with currently 4 outlets bustling with people.
What is BOBA/BUBBLE Tea ?
Bubble tea has become increasingly popular as a delicious and refreshing drink in recent years. It is a tea-based drink that includes chewy tapioca balls, known as "bubbles" or "boba". The tapioca balls give the drink a unique texture and flavour. Bubble tea can be made with either black, green, or other types of tea and It is typically served cold, with ice, and can be customized with a variety of flavours and toppings.
The tapioca pearls, or bubbles, are small, chewy balls made of tapioca flour that are added to the tea. The pearls are boiled for several minutes until they become soft and of gummy texture. The pearls are then added to the tea along with any other desired flavours.
History
The Cafe has a very heart-warming history based on the principle of bringing a staple Korean beverage to India, which now looking at the success, was a welcome idea.
Yu Sung, Armaan, and Jo grew up with a worldwide palate after attending an international boarding school in Mussoorie's highlands. Yu Sung returned to his native nation of South Korea after graduation, but Armaan and Jo remained in India.
Throughout their acquaintance, Yu Sung revealed a strong desire to return to India. Armaan highlighted the unavailability of bubble tea in India during a passing group talk, a drink he routinely liked during his undergraduate days in the US. This inspired the creation of GotTea.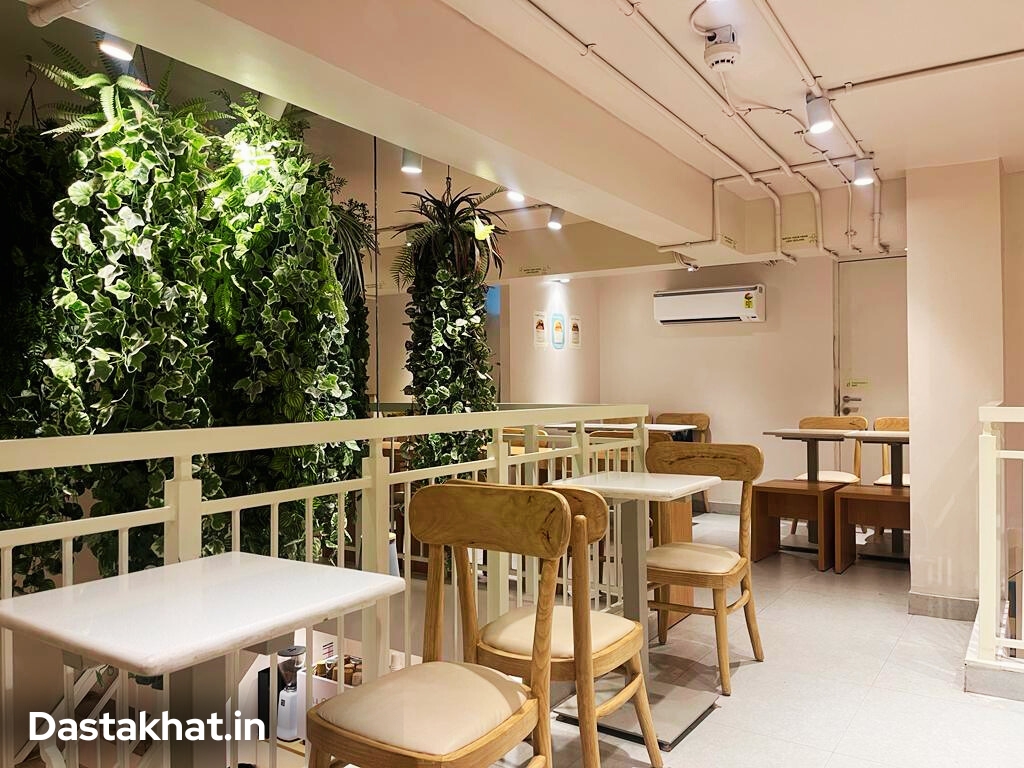 And the idea of just wandering off to a cafe with a notebook and writing and seeing where that takes me for awhile is just liss.
– J. K. Rowling
GOT TEA's Menu
I recently visited the deer park café of Got Tea in Delhi and was impressed with the aesthetic ambiance and the quality of the drinks. The branch was bright and airy and had plenty of comfortable seating for customers along with Wi-Fi service.
The drinks menu was extensive, with a variety of bubble tea flavors and toppings to choose from. I tried a coffee bubble tea and it's now my favourite! Moreover, the taro flavour is also truly delectable. The drinks were not overly sweet and had the perfect amount of creaminess.
The Cafe's menu also features a variety of snacks and desserts to enjoy with your beverage. You can find traditional pastries, like scones, croffles, and muffins, as well as cakes and cookies.
Furthermore, the simple fact that Got Tea is one of the first few places to supply dairy-free/vegan and gluten-free choices puts the café in one of the up-and-coming modern places that try to cater to every need of their customers.
Frequently Praised
Ambience of GOT TEA
Although, boba is an acquired taste for many people and some do have contrasting views on it. If you are one of those people, then you can just go there for its gorgeous ambiance and order the delicious drinks without the tapioca pearls and enjoy their snacks and desserts.
Got Tea café is the perfect place to relax and enjoy your drinks while you work or hang out with your friends and make some precious memories and the staff there is delightfully friendly and helpful in helping people decide which drink to choose. It has a very warm and inviting atmosphere infused with elegantly serene foliage and flowers inside, ideal for spending quality time with your loved ones.
When I entered the café I saw a memory wall where people had written about their experiences and also just fun little sketches and that's something I fell in love with. It lifts the place even more.
K-POP CULTURE INFLUENCE
Additionally, If you enjoy K-dramas and K-pop culture then this place is definitely for you, bubble tea is a very enjoyable and significant part of their diet and is frequently seen in their tv shows and movies. To give the place a more authentic Korean vibe, there are soft colours used inside the café, playing with pastels, and the interior has a tranquil nature-centric appeal.
Hung on a wall there are also gat hats, a Korean traditional hat worn by men along with hanbok (Korean traditional clothing) during the Joseon period. It is made from horsehair with a bamboo frame and is partly transparent. Most gats are cylindrical with a wide brim on a bamboo frame. This adds a fun experience as you can take pictures with it and also get to know more about Korean culture a bit more intimately.
GOT TEA Reviews
| Tea Cafe Description | Rating |
| --- | --- |
| Prices are a bit high compared to other cafes serving boba drinks. | 4/5 |
| The floor was a bit dirty, so they should pay more attention to cleaning more frequently as people sometimes spill their drinks. | 4/5 |
| The place has a very serene and chic vibe, and is also ideal for aesthetic photographs. | 5/5 |
| The quality of the food and drinks is absolutely spectacular, but there's always room for improvement. | 4.7/5 |
| The staff is really helpful and sweet. | 5/5 |
Conclusion
Overall, Got Tea is a truly serene Cafe. The drinks were delicious, the atmosphere was inviting, and the staff was pleasantly friendly. I definitely recommend visiting Got Tea if you're in the area. Especially if you have a taste for bubble tea, it is perfect to satiate your ubiquitous want for boba and a stunningly calm atmosphere.
Note
Pure Veg Restaurents in Delhi – Click Here
Want to Learn Web Designing – Click Here